Providers can curate collections of content in Explore and offer them to institutions. To review offers, institutions can log in to Explore and follow these steps.
Log in to explore.vitalsource.com.
Click on Market, then select the subscription you would like to see offers for.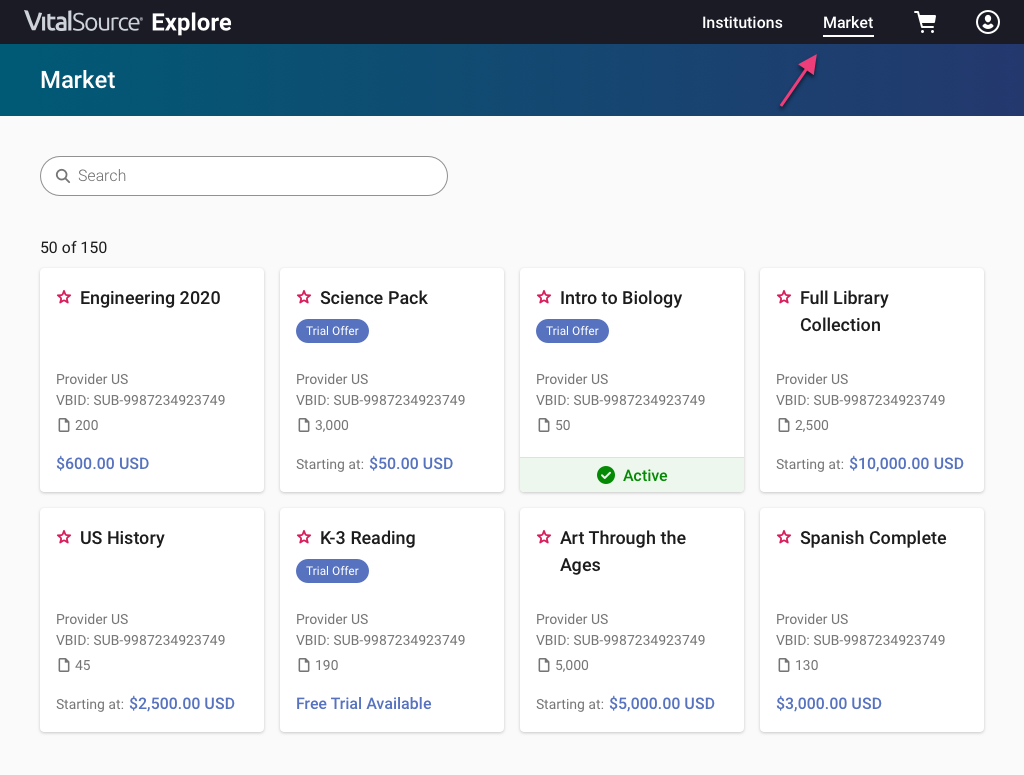 Click on a subscription card to see the offers that a provider has sent to your institution.
By default, if an LMS integration is set up, all subscription content will be available to learners as soon as the purchase is complete. If you want to delay the start of the subscription availability to learners, click Change next to the Subscription Start Date within the offer you want to purchase.

Note: Some offers give the option to auto-renew when they reach the end of their duration.
Toggle the Auto-renew button On if you want your subscription to auto-renew. Toggle the Auto-renew button Off if you want your subscription to expire.
Note: If you administer more than one institution, you will need to select the institution you are purchasing for. Click the Select Institution drop down to choose the institution you are purchasing for.
Click Add to Cart.
In the popup, you can choose to continue browsing, or click View Cart.
In the cart, you will see all subscriptions added. You can choose to Remove
subscriptions, or Save for later.
Click Checkout when ready to complete purchase.
Review the order details and click Place Order.
You will receive a confirmation email with your order details.
Navigate to your institution to view and manage your subscription(s).