VitalSource's Engagement Dashboard provides powerful insight but is simple to use. You will be able to see near real-time statics that will help you validate the engagement levels of your learners and the completion of reading assignments.
If this is your first time setting up your Engagement Dashboard account, you will receive an email with a link to Set Your Password. Click on the link to input and confirm your new password. You will then be directed to the VitalSource Manage landing page. You can click off of this page and go to https://analyze.vitalsource.com/auth/vst/login to log in to Engagement Dashboard.
If you already have set up your account, go to https://analyze.vitalsource.com/auth/vst/login to log in to Engagement Dashboard.
1) To begin with you need to define the date range of the data that you want to view.
By clicking on the down arrow in the date range box in the upper-right hand corner of the screen – you can identify both the beginning and end date for your range: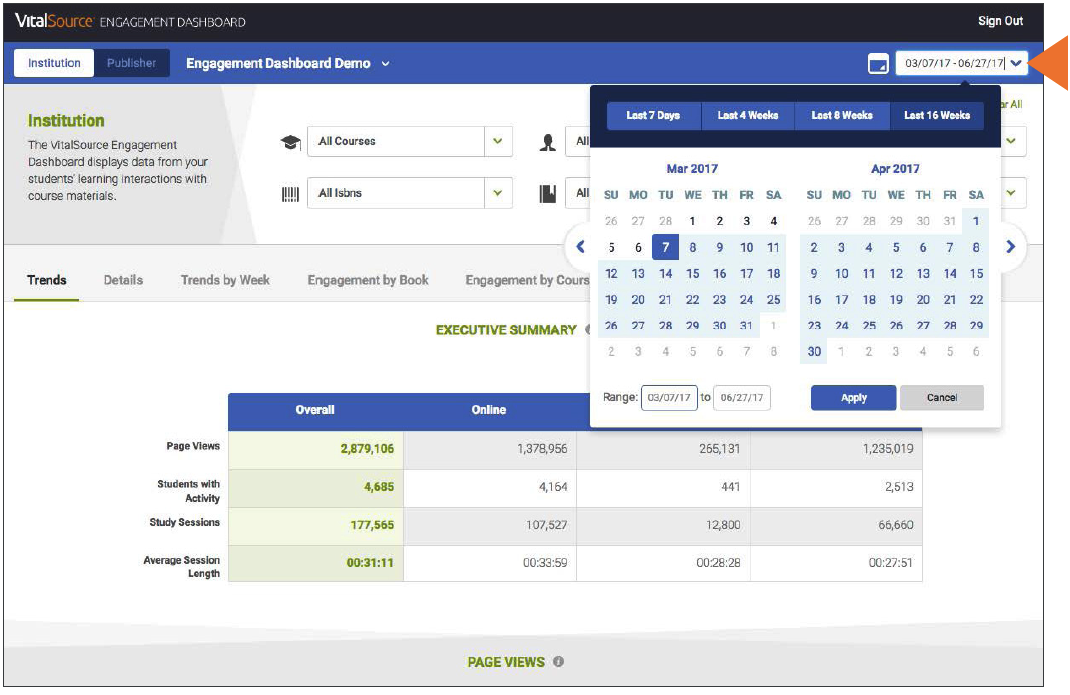 2) You can search titles or ISBNs in order to view usage. Your ISBN number is also your part number.
To do this simply click on the down arrow by "All Titles" or "All ISBNs":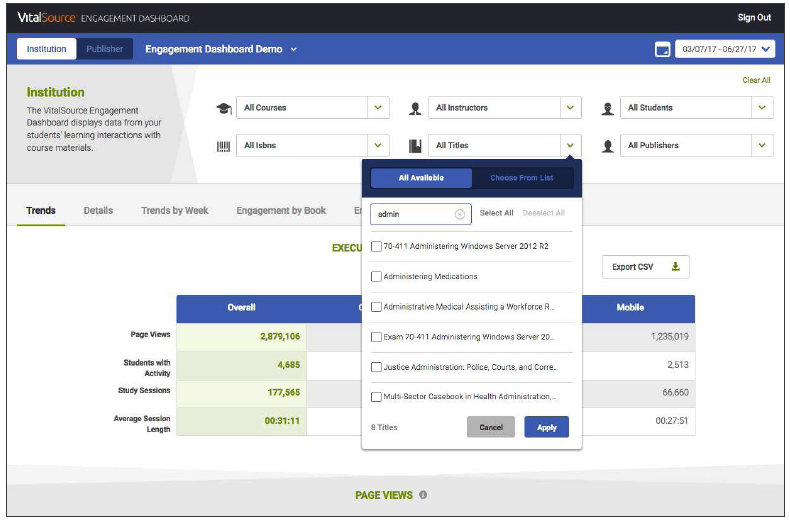 Statistics are available for one title or many titles.
3) Once you have defined the date range and title(s), the main screen will now show an overview of activity broken down by the content access method (Desktop, Online, or Mobile):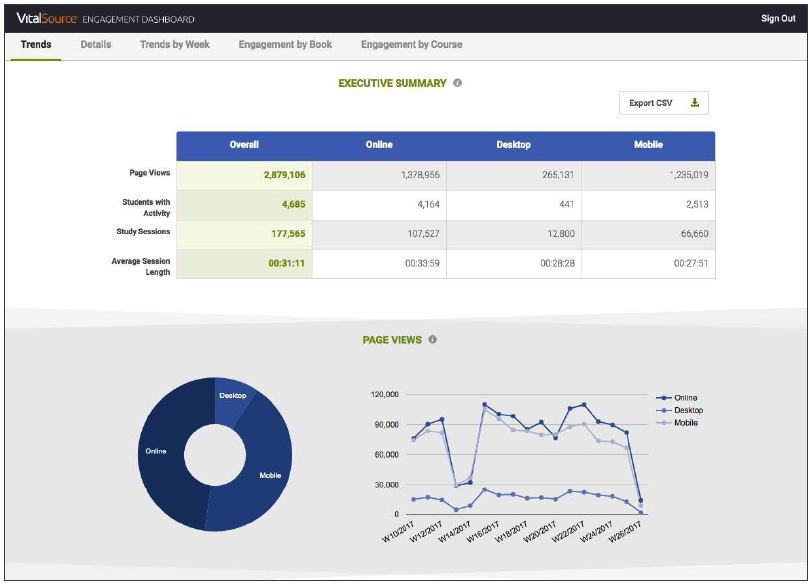 This information is presented in table, donut, and graph formats.
4) There is also more detailed information presented in bar charts at the bottom of the main page. Each bar chart can be downloaded in CSV or Excel format.
The information includes Page Views, Study Sessions, Printed Pages, and Engagement Trends.
The first three bar charts break down the information by device: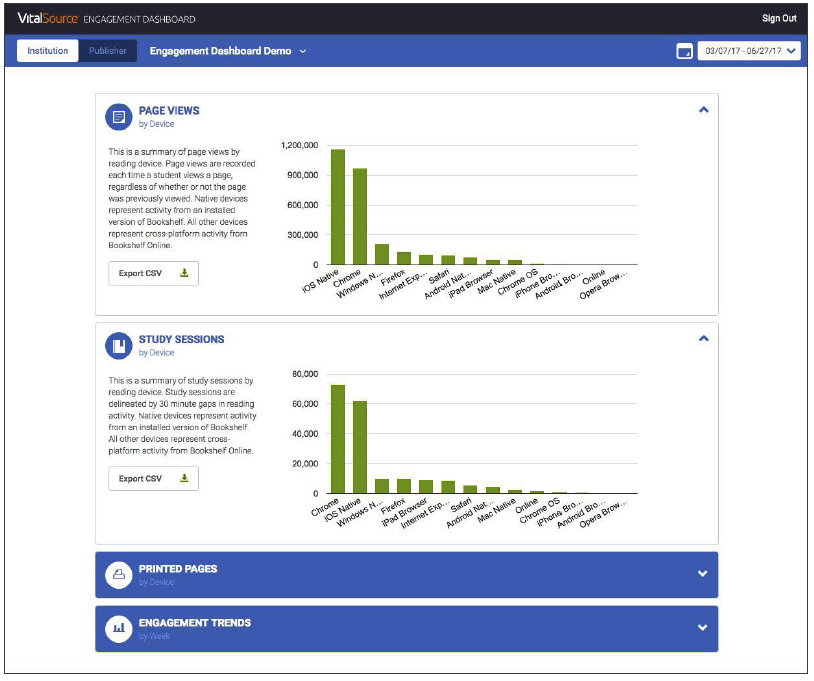 5) Just below the Printed Pages bar chart is Engagement Trends.
This chart shows you what type of activity the learner engaged in; whether it was highlighting text, bookmarking, or making a note. It also takes into account the number of overall sessions with the content and can be viewed down to the daily level: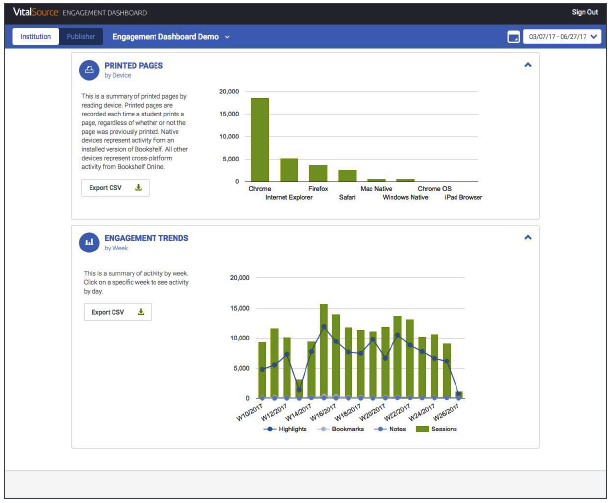 6) Now we move to the Details tab at the top of the page.
This provides the same type of details but at the individual learner level and by specific title.
You can also filter by "All Devices" or "All Platforms" which shows access via Online, Mobile, or Desktop: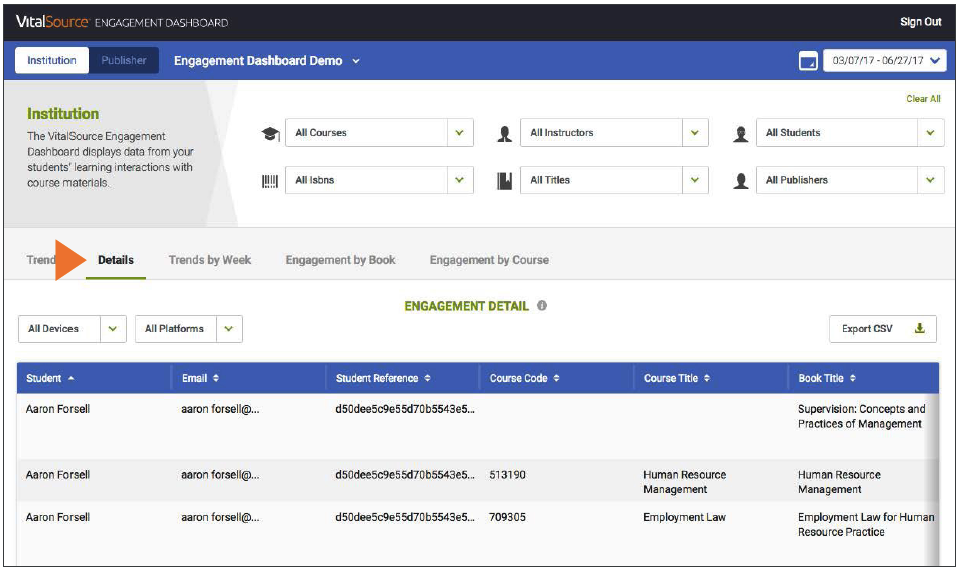 7) As you continue to scroll to the right, there's further detailed information available on learner engagement: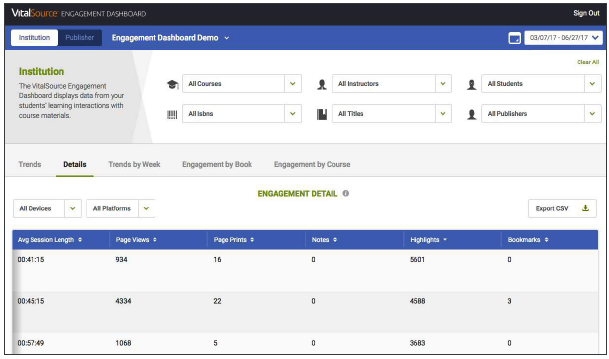 8) You can also see additional information, including the individual learner's number of pages viewed, number of pages printed and their average session length: