Set up an Institutional IP Address Integration with Explore - For Profit and Career Institutions
Once you have accepted an offer, you can set up an integration between Explore and your institution's IP/EZProxy network. 
To begin the setup process, click Integrations at the top of the Institution details screen. Note: If you do not have any integrations set up yet, click the Set Up Integration button in the top right of the screen.
Select IP Address / EZProxy as the Integration Type, then click Next.




There are three options to choose from when setting up an IP address:

Single - Enter the single IP address you wish to use. 
Range - Enter the IP range you wish to use.
My IP - Selecting MY IP will enter the IP address you are currently using. 

Below are examples of how to input each IP option:

Single IP: 131.111.12.111
Range: 131.111.1.1-131.111.254.254
 

Click Add Another to add multiple IP addresses of any type.
Enter an optional note for your integration.
Note: Formulas are not accepted, only simple ranges or single IP addresses. The system does accept IPV6.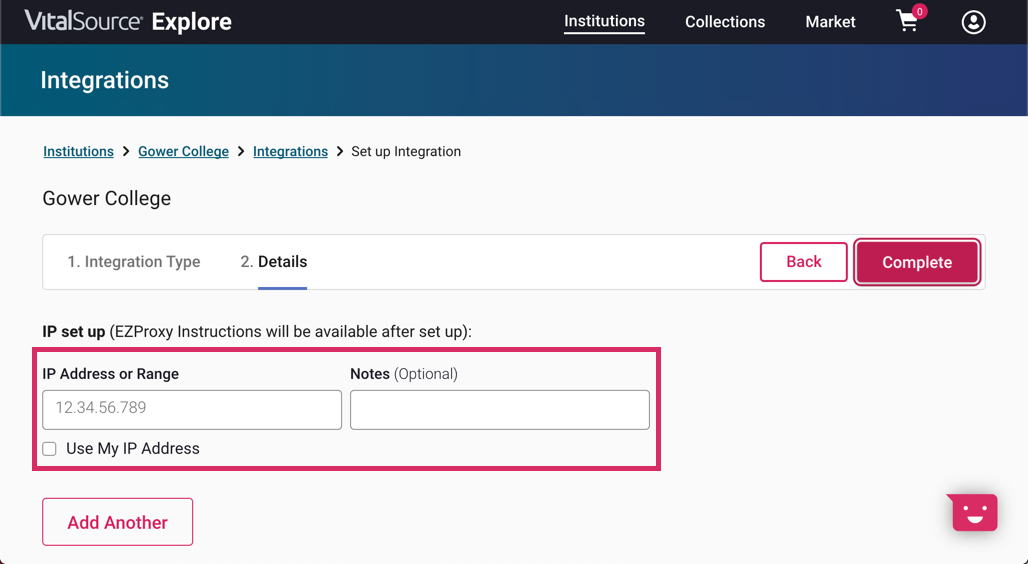 Click Complete when finished. If you are using a location-based IP integration, adopted content will now be available. If you are using an EZProxy setup, proceed to the next step.
You must now install the provided EZProxy stanza to your setup:


AddUserHeader X-User
T VitalSource Resolver
U https://resolver.vitalsource.com
HJ https://resolver.vitalsource.com
NeverProxy jigsaw.vitalsource.com
NeverProxy bookshelf.vitalsource.com
NeverProxy www.recaptcha.net
AddUserHeader
Please also note the VitalSource content entry point link that will be used in your EZProxy portal: https://resolver.vitalsource.com