If your LMS currently has the VitalSource LTI 1.1 tool configured, the below steps will guide you through the process of upgrading the existing 1.1 tool to a 1.3 configuration.
In Canvas, click Admin → Developer Keys and click + Developer Key. Select the LTI Key option.

Enter the following to configure the tool:

Key Name: VitalSource LTI 1.3

Owner Email: LMS admin's email address

Redirect URI: https://bc.vitalsource.com/oauth2callback

Method: Manual Entry

Title: VitalSource

Description: VitalSource

Target Link URI:


Work with your VitalSource Integration Manager to ensure the correct endpoint is used here.

OpenID Connect Initiation URL: A VitalSource Integration Manager will provide this.

JWK Method: Select Public JWK URL and enter https://bc.vitalsource.com/ltia/security/jwks
1. Under Additional Settings, leave all fields blank except for Custom Fields:
canvas_user_id=$Canvas.user.id
canvas_user_login_id=$Canvas.user.loginId
course_start_date=$Canvas.course.startAt
course_end_date=$Canvas.course.endAt
canvas_course_id=$Canvas.course.id
canvas_section_id=$Canvas.course.sectionIds
term_start_date=$Canvas.term.startAt
term_name=$http://Canvas.term.name
previous_context_ids=$Canvas.course.previousContextIds
previous_canvas_course_ids=$Canvas.course.previousCourseIds
canvas_api_domain=$Canvas.api.domain
canvas_account_id=$Canvas.account.id
Privacy Level = Public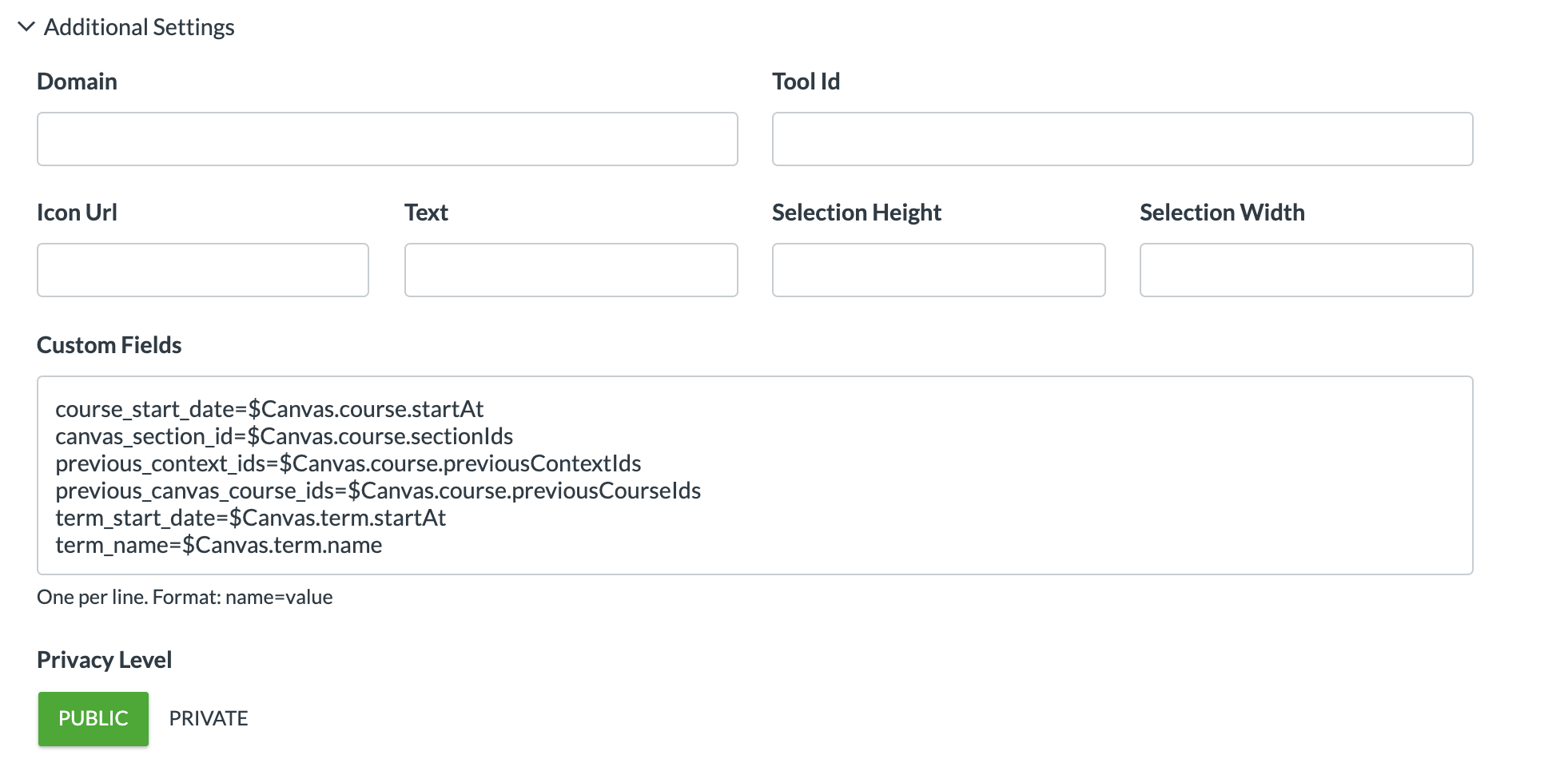 Placements - currently only placements in the Course Navigation and the Link Selection are supported by VitalSource.
Course Navigation - link placement is enabled by default within the course navigation menu. Ideal if you are using the same link in every course. This is not recommended if you would like to launch to a specific digital product as that requires the link is edited when added to a course.
Link Selection - enables link placement within course modules. This is ideal for launching to specific digital products.
For either or

both placements, enter the following information:

Click Submit

Provide the Client ID and Deployment ID in a one time secret link to your VitalSource Integration Manager to complete the setup.
For steps on adding links to course Modules, please refer to the documentation here.