Analyze Outcomes
One of the premier benefits to using digital course materials is the ability to track student engagement and usage. This data allows you to determine intervention points in the semester at which it might be possible to get lagging students back on track. VitalSource has many different dashboards and reports that make it easy to see key data points such as page views, session length, device or platform, and opt-out rate by course and/or content. Use these metrics to track students during the term, and tap into them again at the completion of a semester to review growth and progress of the program as a whole.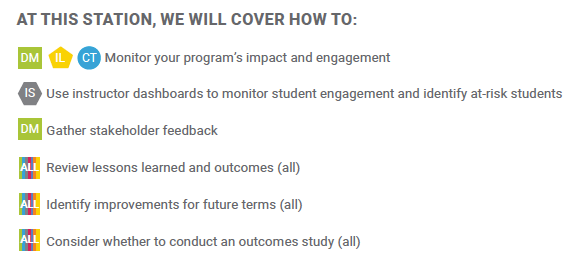 Monitor Your Program's Impact and Engagement
The data and analytics provided by VitalSource can be invaluable tools to measure progress of your Inclusive Access program. Once classes have started, it's recommended that the digital program manager make a point to review engagement data for students and faculty in the program. If your implementation team has previously agreed to success criteria, VitalSource's data can show you how your participants are tracking toward their goals.
Use Instructor Dashboards to Monitor Student Engagement and Identify At-Risk Students
One of our most popular analytics tools is the instructor dashboards. Easily accessible from the Course Dashboard or at analytics.vitalsource.com, the instructor dashboard is a great tool for faculty to quickly gauge student usage and engagement with course materials. By comparing the data from instructor dashboards to your students' grades and participation, you can get a clear picture of who is excelling in the course, as well as who may benefit from some additional help.
Gather Stakeholder Feedback
To prepare for term end, we recommend gathering feedback from all of the people who participated in the Inclusive Access program. It's important to understand all of the perspectives of your diverse team, including representation from the bursar's office, academic leadership, IT, faculty, and students. Hosting a town hall, sending out surveys, or opening up a virtual suggestion box are all great ways of soliciting input from your team and finding out what they thought about the semester.
Review Lessons Learned and Outcomes
After you've reviewed the feedback from your participants, it's a good idea to do a formal lessons learned session as an implementation team. During this session, you can highlight key takeaways from the semester (both positive and negative), and summarize student engagement and performance.
Identify Improvements for Future Terms
The lessons learned will help you identify areas for improvement and growth in your next semester. Your VitalSource Customer Success Manager can help you change aspects of your program that you'd like to modify, as well as help you grow your participating student population and adoption size.
 Consider Whether to Conduct an Outcomes Study
Our research has shown that engagement with the course materials early and often in the semester results in predictably better student outcomes. VitalSource would be happy to help you aggregate your engagement data with student outcomes data to help you identify the most accurate intervention point. This type of study is something that VitalSource is very familiar with, and your Customer Success Manager can guide you to make sure your program is getting the most out of our key insights.